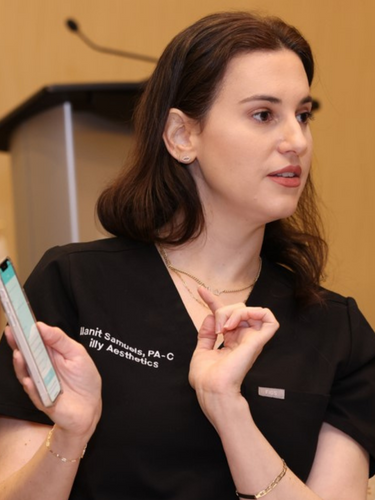 Sculptra Aesthetics Ilanit Samuels, MCMS, PA-C
Faculty: Ilanit Samuels, MCMS, PA-C
Poly-L-Lactic is the comeback kid of 2022! Although it has been around for many years, this product
can be a bit intimidating to injectors, said Ilanit Samuels, MCMS, PA-C, who leads this podcast recorded at SDPA's 20th Annual Fall Dermatology Conference in Miami, November 2022. In this presentation, Samuels provides a comprehensive approach to Poly-L-Lactic Acid for those who are new to this innovative product. During this lecture, faculty share pearls on PLLA and explain a step-by-step approach to full face rejuvenation using PLLA
including an overview of proper reconstitution and
injections.
At the conclusion of this podcast, listeners will:
• Explain PLLA and where to most efficaciously
inject for optimal outcomes.
• Describe reconstitution guidelines.
• Identify proper injection technique and areas of
injection.
Posted |