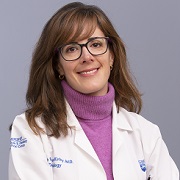 Acne, Rosacea: What's New?
Faculty: Joslyn Kirby, MD – Hummelstown, PA
Bachelor's Degree from Virginia Tech
Medical Degree from the University of Virginia School of Medicine
Faculty at Penn State University in Hershey, PA
Dr. Kirby talks about how diet relates to managing acne and rosacea. The varied clinical spectrum of rosacea and the different treatments available are discussed. The treatment of acne, with a focus on systemic treatments and acne scarring is also covered here.
Posted November 13, 2019 | 2019